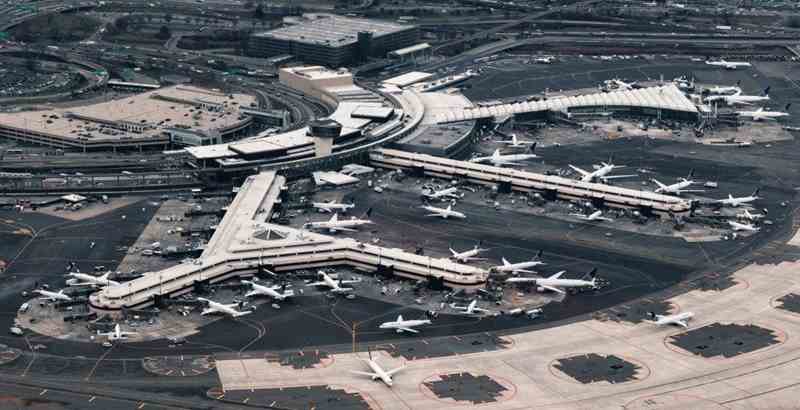 Newark Tourist Attractions
When arriving at Newark Airport, you have the opportunity to explore so many different attractions close by. Both within the city of Newark itself, and in the surrounding areas. Below you will find inspiration to some fun, interesting and memorable tours you can enjoy together with your travel companion(s).
Full-Day New York City Tour on Open Top Sprinter
An obvious choice would be to head to New York City and enjoy all the incredible sights and attractions this city has to offer. However, how about seeing the best of New York in an open-top sprinter van? That is exactly what you can do with this full-day New York City Tour. The tour even includes access to the Liberty Statue, which is one of the most famous attractions in the city.
The day starts at 8:45 am, where you should meet your guide in front of St. Patrick's Cathedral. From this location, you will board the bus and your day-tour is ready to start. On this day you get to see famous landmarks like Little Italy, Wall Street, the 9/11 Memorial, and Little Italy. The tour continues with a ferry ride to Liberty Island with pedestal access to the iconic Statue of Liberty. You can choose to end the bus tour with an optional visit to the Empire State Building. Please be aware that you have to purchase tickets for this separately.
New York Harbor: 1-Hour Jet Ski Tour
If you are looking for something a bit more nerve-racking and a real adrenaline rush, why not go for a 1-hour Jet Ski tour at New York harbor? With this tour, you get to go with an experienced guide on a unique and adventurous tour in New York. You will explore Ellis Island, the Statue of Liberty, Brooklyn Bridge, and One World Trade from the waterside.
Your adventure will start down at the marina. Here you will be provided with a life jacket, which is required of you to wear and a wet or dry suit if you desire. You will also get a safety and operating briefing before you hit the water. This is definitely a way to discover New York City from a different perspective!
New York City: Central Park Guided Pedicab Tour
You cannot visit New York City without a tour around Central Park. With the guided pedicab tour, you get to see it all from the backseat of a pedicab that will take you around the park.
During the tour, you will get to explore several important and historical places in Central Park. You will learn about this from your guide who will provide you with historical facts and information, topped with some fun facts. You will see the oldest carousel in the city, Bow Bridge, Strawberry Fields, Dakota Building, Pilgrim Hill, and a number of other historical places. In addition, you will also discover some of the most recognizable movie locations in the park.
Woodbury Commons Outlet Mall Shopping Tour
If you need a break from the busy city, it might be an idea to go on a shopping tour and shop in a more relaxed atmosphere at the Woodbury Commons Outlet Mall. You will depart from New York City, where you will board a comfortable and air-conditioned coach that will take you to Woodbury Commons. Here you will find incredible bargains in over 200 stores.
Did you know that Woodbury Commons Premium Outlets is the world's largest collection of designer outlets? Every day you will find amazing bargains and impressive savings from leading designers and name brands, including Giorgio Armani, Balenciaga, Saks Fifth Avenue Off 5th, Chanel, Coach, Polo Ralph Lauren, Chloe, Fendi, Gap Outlet, Dolce & Gabbana, Etro, Burberry, Gucci, J.Crew/Crewcuts, Jimmy Choo, Lacoste, Neiman Marcus Last Call, Prada, Tod's, Tory Burch, and Zegna. You can save from 25% to 65%. Furthermore, you will receive a free discount coupon book worth hundreds of dollars in additional savings with this tour.
At the outlet mall, you will also find a restaurant, a centralized Food Court, and several other eateries to make sure you maintain your energy while shopping. The Woodbury Commons Outlet Mall is open 7 days a week, all year, except for Thanksgiving and Christmas Day.
City Lights Experience - Helicopter Tour over NYC by Night
With this breathtaking helicopter tour, you get to discover the New York City skies and see the incredible views of the city's skyline lit up and sparkling at night.
You will have to get to Linden Train Station (New Jersey Transit), where Helicopter Flight Services will pick you up so you can begin your helicopter adventure at night. Your tour starts by flying directly over Newark International Airport, heading towards Manhattan. During your tour towards New York Harbour, you will get to explore the illuminated Statue of Liberty before viewing the home of The New York Stock Exchange - the Financial District. Your flight will continue north along the Hudson River, where you will be able to catch a glimpse of the Empire State Building. Furthermore, you should be able to see the famous attractions; Madison Square Garden, Hudson Yards, Chelsea, the West Village, SOHO, and TRIBECA. In addition, the 9/11 Memorial and One World Trade Center will also be in your view from this tour.
Heading towards Central Park, you will be flying directly over New York City. Be ready to take some amazing pictures! At this point, you will get to view the Rockefeller Center and the bright lights of Times Square! Once you have passed the Metropolitan Museum of Art your guide will turn around, and fly you back along the same path from which you came.
This helicopter tour offers all passengers magnificent views of the Manhattan skyline. The flight is approximately 25-30 minutes.
New York City: Harbour Night Sail with Live Jazz Band
Would you like to enjoy a sailing experience around the New York City Harbour while listening to the sweet sounds of a live jazz band? Then step aboard the 105-foot Schooner America 2.0 and get ready for a memorable night.
The boat departs from Chelsea Piers, on Pier 62, and will take all passengers along the Hudson River. You will pass by some incredible sights and attractions like Manhattan's Financial District, Ellis Island and the Statue of Liberty.
You can embrace this beautiful tour while you sit back and enjoy the music, as a live jazz band, will be playing tunes throughout the trip. At the same time, the captain and crew will raise sail and provide beverage service. A few complimentary rounds are included with each ticket.
Use this wonderful tour to unwind as you listen to some classic beats and admire the most beautiful views across New York City.
UNBEATABLE VALUE CAR RENTAL

FREE
Amendments,
FREE
Cancellations,
NO
card fees!

airport_shuttle Need Airport Transfers?
Useful Information about Newark Airport