Newark Airport Arrivals (EWR)
Not all flights may be showing. If not available use search above to find your flight by airline, airport or flight number.
Origin
Airline
Flight no.
Scheduled
Est./Actual
Status
Istanbul (IST)
Turkish Airlines
TK29
10:35
Scheduled
Orlando (MCO)
JetBlue Airways
B6828
10:38
Scheduled
Orlando (MCO)
United Airlines
UA1997
10:44
Scheduled
San Juan (SJU)
United Airlines
UA2036
10:50
Scheduled
Toronto (YYZ)
Air Canada Express
AC8884
10:50
Scheduled
Los Angeles (LAX)
United Airlines
UA1552
10:59
Scheduled
Las Vegas (LAS)
United Airlines
UA2193
11:00
Scheduled
Nashville (BNA)
United Airlines
UA241
11:02
Scheduled
Atlanta (ATL)
Delta Air Lines
DL1406
11:03
Scheduled
Montego Bay (MBJ)
JetBlue Airways
B62356
11:05
Scheduled
Houston (IAH)
United Airlines
UA704
11:05
Scheduled
Phoenix (PHX)
American Airlines
AA1967
11:10
Scheduled
West Palm Beach (PBI)
United Airlines
UA2300
11:13
Scheduled
San Francisco (SFO)
United Airlines
UA1008
11:19
Scheduled
Chicago (ORD)
United Airlines
UA2180
11:21
Scheduled
Liberia (LIR)
United Airlines
UA1446
11:25
Scheduled
Washington (IAD)
United Express
UA3598
11:29
Scheduled
Fort Lauderdale (FLL)
Spirit Airlines
NK2338
11:30
Scheduled
Minneapolis (MSP)
Delta Air Lines
DL2588
11:34
Scheduled
Dallas (DFW)
American Airlines
AA618
11:35
Scheduled
Detroit (DTW)
Delta Air Lines
DL2019
11:36
Scheduled
Orlando (MCO)
JetBlue Airways
B62294
11:44
Scheduled
Fort Lauderdale (FLL)
Spirit Airlines
NK1777
11:56
Scheduled
Tampa (TPA)
United Airlines
UA2056
11:56
Scheduled
Fort Lauderdale (FLL)
United Airlines
UA2162
11:59
Scheduled
Miami (MIA)
United Airlines
UA202
11:59
Scheduled
New Orleans (MSY)
United Airlines
UA2235
11:59
Scheduled
Las Vegas (LAS)
United Airlines
UA2299
11:59
Scheduled
No flight arrivals were found at Newark Airport.
Flight Arrivals at Newark Airport
Newark Airport was opened in October 1928 and has since grown to the 15th busiest airport in the United States in 2017. Top Domestic destinations (until February 2019) included Orlando, San Francisco, Fort Lauderdale, Los Angeles, and Atlanta. Whereas some of the top international destinations (in 2016) served by Newark Airport covered London, Tel Aviv, Toronto, Cancun, Frankfurt, and Paris.
Newark Liberty International Airport, EWR, serves two international terminals and one domestic terminal. All the terminals are connected via the AirTrain service that arrives and departs every three minutes from 5 am to midnight and every 15 minutes from midnight to 5 am. Every Saturday the AirTrain arrives and departs approximately every 15 minutes from 10 pm to 5 am. If you need to use any nighttime service, you will have to use the shuttle service. In general, the shuttles run from the Airport Station to Terminal C, from Terminal C to Terminal A, and from Terminal A to Station P2. You can find more information here.
Newark Liberty International Airport Ground Transportation
In order to gain information about ground transportation, you can visit the Port Authority Welcome Center located in the arrivals area of each terminal. Here you will find a uniformed staff ready to assist you. Here you can get information about anything from taxis, car and van service which are all available at Newark Airport.
Besides connecting the three terminals at Newark Liberty International Airport, the AirTrain also provides connections to the closest cities around the airport. This includes transfers to Amtrak and regional rail hubs such as Newark Penn Station, Secaucus Junction, and New York Penn Station.
You will also find NJT buses that provide service to Irvington, Downtown Newark, and Newark Penn Station. From here, connections are available to the PATH and NJ Transit rail lines.
If you have rented a car, you can find your rental car using the AirTrain. At Station P3 you will find the rental car companies Avis, Enterprise, Hertz, and National. Station P2 includes the rental car companies Alamo, Budget, and Dollar.
Newark Airport is served directly by U.S. Route 1/9 that gives you easy access to Route 81 and Interstate 78.
If you have any questions or concerns you can contact Newark Airport by telephone on +1 973-961-6000.
Pickup
If you are going to pick somebody up at Newark Airport, you should use the free Cell Phone Lot waiting area. This is located near the entrance of the airport, adjacent to the P4 Parking garage. The Cell Phone Lot is a very convenient pickup area as it is less than five minutes away from all terminals.

Newark Airport Service Assistance
Customer care representatives are always available at Newark Airport. Therefore, if you need any kind of assistance at any point during your travel, you can always look for one of these staff members. The customer care representatives are wearing a red jacket. They will be available throughout the terminal to assist all passengers with everything from check-in, locating wheelchair providers, ground transportation, and any other travel needs you might have.
Was your flight delayed or cancelled?
You may be eligible to receive up to 600 EUR compensation per person in your party..
Claim Now!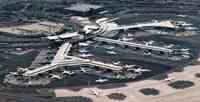 Some fun, interesting and memorable tours you can enjoy in and around Newark, New Jersey...